Belmont Estate is an absolute must-see destination when traveling to Grenada. Located north-east on the island of Grenada in the Caribbean, about an hour's drive from the capital, St. Georges, this 17th-century plantation offers guests an immersive experience into the organic farm, goat dairy, tree-to-bar chocolate making, local cuisine at its restaurant, history & heritage, topped with professional, friendly, attentive service. It is a phenomenal example of the passionate commitment of local owners to transform this relic of an oppressive past into a business that offers a happy, positive, beautiful place, and is focused on transforming lives, empowering people, supporting communities and preserving the environment
The three hundred-acre farm is well diversed with forest, trees, cocoa, spices, fruits and vegetables. The estate has earned a reputation for offering a range of high-quality organic chocolates and interesting tours showcasing tree-to-bar chocolate production, goat cheese making, farm operations and more. The estate upholds its strong commitment to social responsibility, sustainability, heritage, community and environment through its non-profit and various initiatives. Learning opportunities such as internship programs for students and researchers are offered. Warm smiles and demonstrations of love, care, togetherness, generosity and appreciation foster a positive and happy atmosphere at Belmont Estate.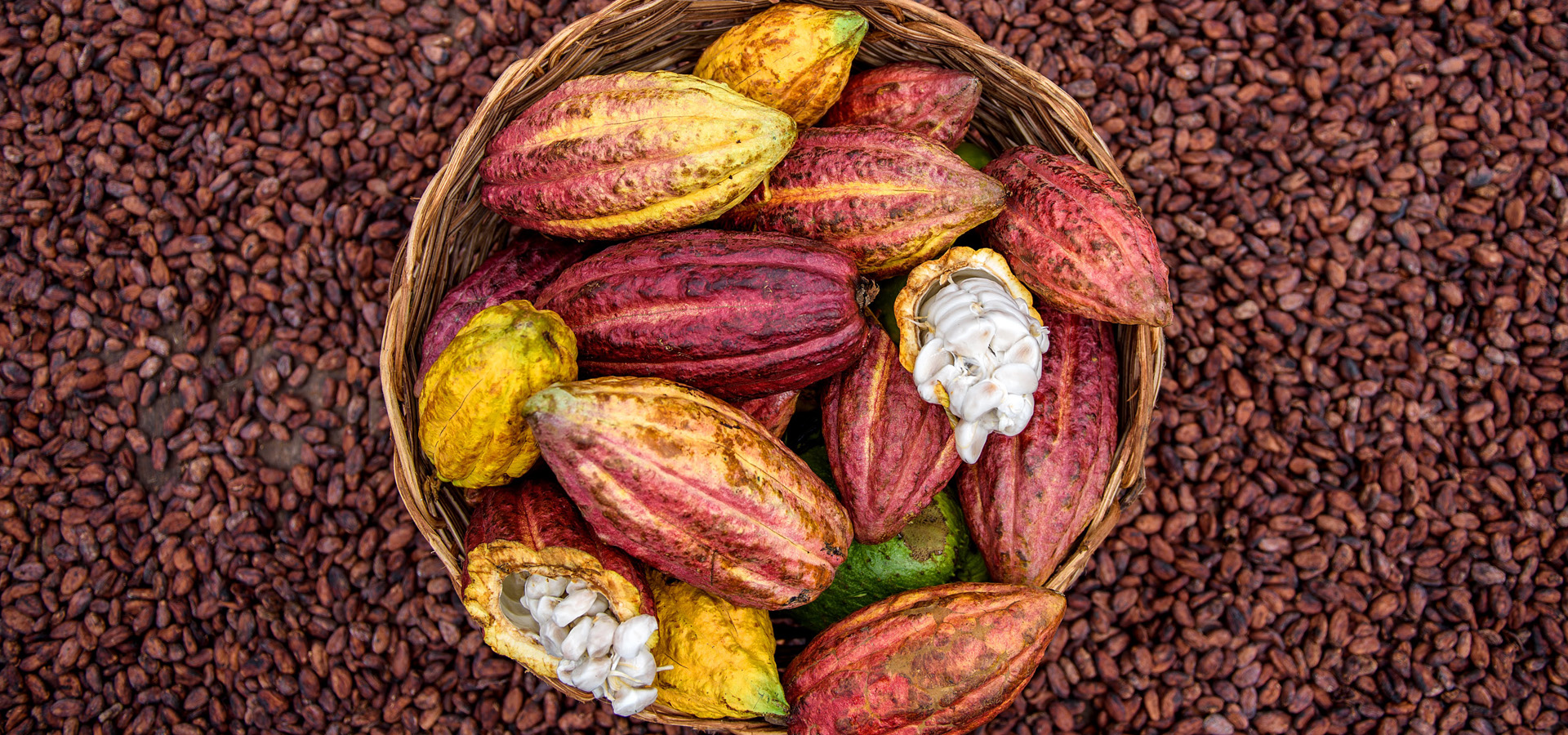 LOVE FOR GOD - We entrust our business to our Maker, the Owner, and Source of all our provisions, wisdom, and direction. Belmont Estate is a testament to God's blessing and love.
LOVE FOR PEOPLE - Our people are our most valued assets. We support their development, reward their performance, and provide a healthy, rewarding, happy, and fun working environment for them.
CARING FOR COMMUNITY AND ENVIRONMENT - We are committed to improving the lives of others. We support, improve, and develop our community through our business, and charitable and philanthropic activities. We are committed to sustainability in our agriculture, tourism, and food manufacturing by farming organically, observing fair labour practices, developing responsibly, utilizing alternative energy, utilizing environment-friendly packaging, and employing responsible waste management.
LEADING WITH SERVICE - Our customers are among our top priorities. We are continually seeking to forge strong relationships by providing exceptional quality and value in our products and services.
LEADERSHIP WITH INTEGRITY - We are real people, who believe that we can be fair, honest, truthful, transparent, and law-abiding and still be successful. We see integrity as a key to success and want to teach others to do the same!
PRESERVING OUR HERITAGE, CULTURE & HISTORY - We are unique and authentic because of our history. We embrace our diverse ancestry that has created an intricate landscape for our cultural and heritage expressions. We acknowledge that parts of our history have been challenging and depressive. They have helped to build our resilience, tolerance and empathy, and our resolve for improvement. We are not restrained by past experiences, but we believe that understanding our past helps us to create an incredible future for ourselves and our country.
To shape a brighter future for our people and planet by employing and promoting sustainable practices in the production of quality organic products and services; creating enriching experiences, preserving our heritage, and protecting or environment.
A better world - happier, healthier people
The delivery of excellent customer service, protection of the environment and natural resources, enhancing education, food and job security, fulfilling our corporate social responsibility and forming strategic partnerships underpins Belmont Estate's operations and practices.
These core practices have provided a framework which allows Belmont Estate to provide an extraordinary experience for our guests while strengthening our ability to assist in the improvement of the quality of life for our community. Further, it creates a platform where solutions can be sought, innovation can be pursued, and new operational approaches can be developed.
Establishment of the Belmont Foundation (formerly Hearts and Hands of Grenada) following the passage of Hurricane Ivan in 2004
Providing financial support for staff at different levels of education, in-house training and seminars
Internship support for hospitality students from the local T.A. Marryshow community Colleges and New Life Organisations
Activities as birdwatching for students and the public to help promote the need for environmental conservation, protection and sustainability.
Belmont's partnerships include:
Memorandum of Understanding with University of Manitoba to conduct research studies and share knowledge with the public through activities and training such as bird watching.
Memorandum of Understanding with Cocoa Research Institute that provides access to the University's expertise in propagation, agronomy, processing and manufacturing.
Partnership with St Patrick's Environmental Community Tourism Organisation in various environmental clean-ups, public awareness campaigns, and in providing support for training workshops and seminars.
Partnership with Government of Grenada for Imani training and worker placement.
Partnership with TA Marryshow Community College, providing for internships for food and beverage students.
Festival partner with the Grenada Chocolate Festival providing guests with an immersive experience.
Partnership with the of the Indo-Grenadian Heritage Foundation (IGHF), a non-profit organization incorporated in 2008 dedicated to promoting and preserving East Indian culture and heritage in Grenada. Further, Belmont through its Managing Director and Owner, Shadel Nyack Compton has been instrumental the passing of legislation officially declaring May 1st as Indian Arrival Day in Grenada.
CERES Organic Certification since 2003 implementing organic farming practices that allow for the protection and support of biodiversity, promoting healthy soil, assist in the reduction of CO2, and support water conservation.
Implementation of composting since 2003.
Company-wide ban on Styrofoam packaging since 2016. Using biodegradable packaging for take-away meals and straws for drinks.
Implementation with assistance from GIZ a biodigester, from which we use of biogas to produce our value-added products.
Implementation of a waste management plan that includes separation of kitchen food waste to be used either as feed for farm animals and materials for compost bins and biodigester; and farm-produced waste like cocoa bean shells, and goat and poultry manure to create compost suitable for fertilizer; and cocoa pods and fallen tree are used as organic material for the field.
Recycling and upcycling policy that allows for plastic bottles are re-used for potting plants in the greenhouse and in floral arrangements, and packaging material like wooden pallets to be redesigned into furniture, making bins, fencing and in construction.
Creating value for locally grown organic certified fruits through the production of jams, jellies and condiments.
Convention & sun drying methods to produce high-quality cocoa beans for processing into chocolate.
Maintenance of forest areas to help in the preservation of the ecosystem and biodiversity.
Water abstracting and tapping from the natural river for irrigation. Rainwater is harvested from roofs and gravity flow is used for farming and cleaning water supplies.
Participation in Glenelg's Recycling Programme.
Since its opening in 2002, Belmont Estate has been recognized locally, regionally and internationally as a best practice in agritourism, and has for the past five years received several industry awards for community service, ecotourism, sustainability & entrepreneurship.
Here are some highlights:
2021: Best Caribbean Attraction 2022- USA Today Travel Awards
2020: Trip Advisor Recognition of the 10 Best Places to Visit in Grenada
2019: Cocoa of Excellence Programme & the International Cocoa Awards - Among the 50 Best Samples
2019: Trip Advisor Hall of Fame for Service Excellence
2019: Best Tourism Attraction awarded by the Ministry of Tourism & Civil Aviation, Grenada
2019: Awarded Certificate for Service Excellence by Trip Advisor Hall of Fame.
2018: Awarded Certificate for Service Excellence by Trip Advisor Hall of Fame.
2017: Grenada National Trust (GNT) Endorsement Award
2017: IICA/CTO Agro-Tourism Award (Sustainable Tourism Awards Caribbean Tourism Organisation and Inter-American Institute for Cooperation on Agriculture)
2017: Special "Bridging Islands of Knowledge" Award at the Sustainable Tourism Awards (CTO sponsored by Centre of Excellence (COE) for the Sustainable Development of SIDS)
2017: Anthony N. Sabga Caribbean Awards for Excellence for Entrepreneurship.
2017: Awarded Certificate for Service Excellence by Trip Advisor Hall of Fame
2016: The Annual Spice Paradise (Grenada) Independence Anniversary Corporate Nation Building Award
2016: Awarded Certificate for Service Excellence by Trip Advisor Hall of Fame
2015: Excellence in Eco Tourism, 27th Annual Business Awards Ceremony, Grenada Chamber of Industry & Commerce
2015: Cited by the Centre for Responsible Travel (CREST) in its article "Celebrating Women in Tourism", occasion of International Women's Day
2015: Excellence in Ecotourism from the Grenada Chamber of Industry and Commerce
2015: Awarded Certificate for Service Excellence by Trip Advisor Hall of Fame
2014: Fair Trade Certified with Fair Trade Sustainability Alliance (FairTSA)
2014: Recognition from News Travel about Belmont Estate spice tours, gardens, museums, goat milk farm and restaurant
2014: Awarded in Recognition of Unique Agro-Heritage Attraction at State of the Industry Conference, U.S. Virgin Islands from Caribbean Tourism Organization and Travel Mole
2014: First Prize, Mango Festival for most innovative use of mangoes and best packaging by the Grenada Marketing National and Import Board
2013: Awarded the Most Outstanding Organic Farm for 2013 on the Occasion of the World Food Day Celebrations by the Ministry of Agriculture of Grenada
2013: Businesswoman of the Year by the Grenada Chamber of Industry and Commerce
2013-2016: Certificate for Service Excellence by Trip Advisor
2012: Innovative Use of Root Crop at the Root Crop Festival, Ministry of Agriculture, Grenada
2010: Environmental Excellence of the Year awarded by the Grenada Chamber of Industry and Commerce (GCIC).
2003: Belmont Estate Certified Organic by Certification of Environmental Standards (CERES)
We love to share our journey and pass on what we've learned!
We are available to participate in conferences and forums to share our best practices and our knowledge in the areas of sustainability, heritage, agri-tourism and agri-business, hospitality, organic agriculture, leadership and social responsibility, for the benefit of students, entrepreneurs, organizations, businesses or governments.
Here are some of the venues we were invited to present at locally, regionally and internationally:
2022: Presented at Climate Change Mitigation; Belmont Estate, St. Patrick, Grenada
2021: Presented at State of Industry Charting Away forward for Tourism & International Business via Zoom
2021: Presented at IICA COLEACP Caribbean Session; "IICA COLEACP Agrifood Business Series"
2021: Presented at Pursuing the Road less Traveled; "The Paths to Nontradiitional Careers"
2021: Presented at Dialogue on "Pandemic and Small Business"; Organized by Eastern Caribbean Central Bank
2021: Presented at EECB 5th Growth & Resilience Dialogue with Social Partners; Organized by EECB
2020: Presented at Chocolate Webinar: Meet The Chocolate Experts of Pure Grenada; Organized by GTA
2020: Presented at Pure Grenada - North America Chocolate Webinar; Organized by GTA
2020: Presented at Special Guest in Global Trends Class; "Specialty Chocolate & The Grenada Chocolate Company"
2017: Presented at Caribbean Leadership & Transformation Forum; Barbados
2015: Presented at OCES/CBU/EDES Regional Workshop on Food Safety Standards for Fine Flavour Cocoa; "Co-operative Approach To Organic Cocoa Production in Grenada"; Garraway Hotel, Dominica
2014: Presented at Private Sector Partnership Forum, Small Islands Developing States (SIDS) Conference, APIA, Somoa

2014: Presented at Brussel's Briefing 37: Building Resilience of SIDS through Trade and Agribusiness Development; Brussels, Belgium
In 2015, the United Nations (UN) member states launched the 17 Sustainable Development Goals (SDGs) to end global poverty, advance health and education, reduce inequality, protect the environment, and accelerate economic growth. Countries worldwide, in partnership with the private sector, are coordinating action to achieve the UN SDGs by 2030.
We are committed to consistently work towards achieving the UN SDGs. The participation of private companies is paramount to the success of these goals. Our combined efforts can result in significant sustainable changes that can benefit our environment, our economy, and our people for a long period of time.
We have chosen 12 goals to achieve that are most relevant to our business. We strongly believe that we can make a difference in these areas as a certified organic company committed to sustainability and the betterment of our community and country.
No Poverty
Zero Hunger
Good health and well-being
Quality education
Gender Equality
Decent work and economic growth
Sustainable cities and communities
Responsible production and consumption
Climate action
Partnerships for the goals
Life Below Water
Life on Land